Surplus Generator:
A large corporation in the Pacific Northwest is in a constant cycle of refurbishing office space. As part of their commitment to corporate sustainability they use IRN's services to match their surplus furniture with non-profit organizations who are in need.
Recipient:
A rural tribal school of 90 students, K – 12, in western Washington state was in need of furniture to upgrade classrooms and to furnish new expansion pods.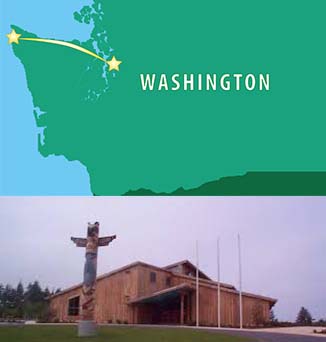 OVERVIEW
A Tribal School on the scenic Olympic Peninsula needed furniture. They had just acquired three portable classroom buildings and were faced with a cost of up to $50,000 to furnish them. Looking for lower cost alternatives, the school's superintendent considered IRN's Reuse Program for Schools. At first he was skeptical. Would the quality and inventory be as expected? Were there really no other costs than the trucking charge for a 150 mile delivery? How could a small rural school possibly be able to use a 53' trailer stuffed with furniture?
IMPLEMENTATION
The truck arrived at the generator's warehouse on a Monday morning where it was filled with furniture. By late afternoon the truck arrived at its destination. The tribe's Public Works team unloaded the truck, all 8,000 pounds of freight, within an hour. Meanwhile, the school's team delivered the furniture to 12 different classrooms, two offices, and a copy room area.
Six empty classrooms in three new portables were fully furnished with desks, chairs, bookshelves, and storage. Two grades 7-8 and 9-12 classrooms were also furnished by removing all of their old furniture and replacing it with the furniture off of the truck. All of the desks are height-adjustable and suitable for students of any age or size. The 7-12 teachers and students are very happy to have individual student desks instead of the big shared tables. The staff finally have the bookshelves and file cabinets they have been requesting for the past several years.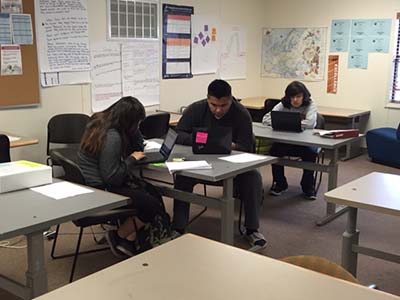 COMPOSITION
| | |
| --- | --- |
| Item | Count |
| Bookshelves and Tower Cabinets with Pedestal File | 23 |
| Chairs, Stacking | 113 |
| File Cabinets, Three Drawer, Pedestal, Wheeled | 7 |
| Tables, Adjustable, 30"x30", Square | 46 |
| Tables, Adjustable, 47"x30", Rectangular | 50 |
| Tables, Round, 36" | 3 |
| Total: | 242 |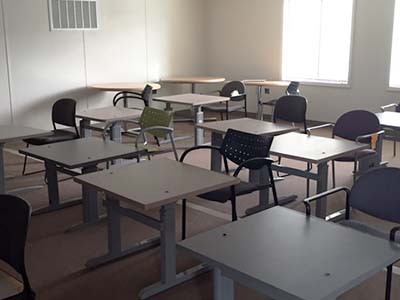 "The furniture saved our school an estimated $45,000 to $50,000. The furniture is high quality and the kids and staff are all very appreciative. This truly has a significant impact on our school. Thank you very much."
Superintendent, Quileute Tribal School