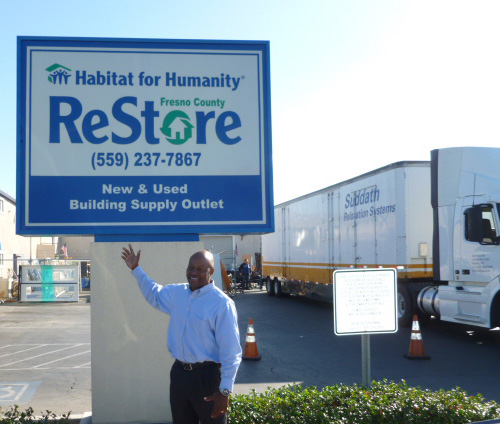 When a 53' tractor-trailer from IRN pulls up to a Fresno County Habitat for Humanity ReStore, Director Torin Blount knows he can anticipate a huge upsurge in sales. In the past five years, Habitat Fresno's two ReStores have received 61 shipments from IRN, each containing about 200 pieces of gently used, high quality furnishings, typically with an original purchase value of more than $70,000.
Funds raised by selling these furnishings have financed construction of five Habitat homes. According to Blount, these shipments have become a critical source of support for Habitat Fresno's mission of providing affordable housing to their community.
Furniture Sources
IRN - The Reuse Network partners with corporations, universities, schools, and other organizations to provide a cost-effective reuse solution for their surplus furnishings and equipment. Organizations seeking an alternative to disposal of their furniture contact IRN with their surplus inventories. IRN reaches out to their network of charities and non-profits to find a perfect match and then packs and delivers the furniture.
To date, Habitat Fresno has received furniture from 17 different California organizations, including 11 corporations and three universities. Two-thirds of the shipments have been furniture for residential use; one third has been office furniture. Meanwhile, Habitat Fresno has helped save 330 tons of surplus from the landfill. It's a winning solution for Habitat and the community it serves, for the organizations who generate the surplus, and for the environment.
Habitat Fresno is Big Shipment Ready
The intake of these large inventories requires careful planning of moving labor, floor space, and storage areas. Truck arrival times can vary due to traffic and load times at the origin. IRN continuously updates Habitat on the E.T.A. so a crew of volunteers will be at the ready. Once the truck arrives, the crew unloads the shipment, assigns prices, and places it the showroom, all within an hour and a half.
"Our customers are bargain hunters but they also appreciate high quality and a good selection. With IRN furnishings, they get great value while helping the community."
Torin Blount, Habitat ReStore Director
According to Blount, the key to sales success is setting prices so that the inventory sells quickly, allowing the store's products to be continually refreshed. Another success factor is knowing what Habitat Fresno's customers want so that the shipments he accepts contain items that are in demand. When new shipments arrive, Habitat Fresno gets the word out with advertisements, newsletters, mailings and social media. Via Facebook and Instagram, they can reach more than 27,000 people within a short drive to the Fresno ReStores.
Inventory Composition
| | |
| --- | --- |
| Description | Count |
| Seating (chairs, stools, couches) | 5,847 |
| Tables | 1,593 |
| File Cabinets | 1,406 |
| Desks | 1,144 |
| Bookcases | 480 |
| Credenzas, cabinets | 636 |
| Other (beds,lamps, AV equip., lockers, carts, dressers, office supplies, etc.) | 615 |
| Total: | 11,721 |
Looking Ahead
"We look forward to continuing our success with IRN. Over the past five years, Habitat Fresno has become a resource for home and office furniture, thanks to the generosity of the donor organizations. We are now the Chair Capital of Clovis", says Torin.
---
IRN has been working with Habitat for Humanity International since 2005 and has provided surplus furnishings to more than 40 ReStores nationwide.