These furnishings came from an IRN corporate client in the Pacific Northwest.  Our longtime charitable partner World Vision made a match with one of their many in-country education and community development programs, in N'gombe Zambia, the Needs Care school and community center.
GIK # 21740-21101: FURNITURES.
This page reports on the wonderful donation that was given to our Centre in October 2014. The donation consisted of chairs and tables, GIK # 21740-21101. At Needs Care we are happy to share with you that this donation will be used for our Income Generation Activities (IGA). We have now come up with proper conference facilities by putting these furnitures in the School Hall, and will hire out the school hall for Trainings, Workshops, Weddings, Kitchen Parties and Conferences to the public. The Hall will cater to more than 100 participants at a time for parties and about 50 for trainings, workshops, and conferences.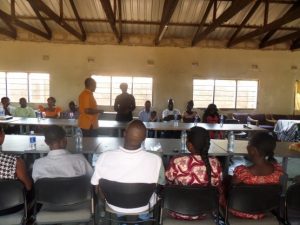 At Needs Care we are so humbled by your support, as the impact is not only to the children but to the Community at large, as you can see one of the Churches in our Community hired the School Hall for a one day Couples workshop on the 24TH October. According to the Organizers the workshop was a very big success as they had expected 20 couples to attend but had more than 40 couples attending.  This was made possible because of the facilities that Needs Care offered to the Church, through the wonderful tables and chairs we received from your Organization. The training was to end at 15.00 hours as per arranged but it went own up to 18.00 hours.  We asked them why? They explained that they felt like continuing due to the comfort they had from the Chairs, tables and atmosphere. This proves that as a community we are feeling, experiencing and appreciating the impact from the furnitures that you are supporting us with. They had other Participants coming from Kanyama, Garden, and Mtendere and were so surprised to find such a Venue, that they were asking how such a Venue was found in N'gombe. Who was funding this facility? Could others use this Facility? And a lot more questions.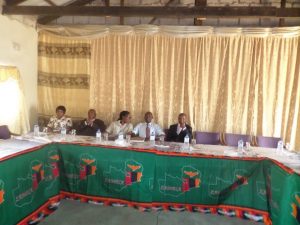 At NEEDS CARE WE APPRECIATE YOU SO MUCH AS ALL THESE HAVE BEEN MADE POSSIBLE BY YOUR SUPPORT, AND WE SALUTE YOU FOR THE WONDERFUL WORKS THAT YOU ARE PROVIDING TO THE MANY VULNERABLE, BY TOUCHING THEIR LIVES WORLDWIDE.
GOD BLESS YOU ALL FOR PARTICIPATING IN THIS NOBLE WORK.