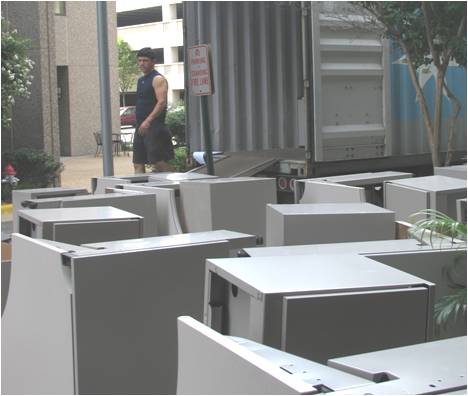 SUMMARY
Situation:  A large consulting firm with offices nationwide, replacing or disposing of systems and other furnishings at multiple offices.
Material Composition:  Standardized offices including desks, file cabinets, overhead storage cabinets, task and side chairs.  Other office furnishings including seating, conference & work tables, etc.
Quantity:  Approximately 6,000 pieces, scheduled in fourteen individual projects from ~100 to ~1,800 pieces.
Setting:  Suburban corporate campuses; urban high-rise.
Click here for a printable PDF of this case study.
OVERVIEW
This IRN client is one of the best known environmental consulting firms in the U.S., serving large government and corporate organizations.  As such, when they initiated a company-wide program to refresh outdated furnishings and reduce their own environmental footprint by encouraging employees to work from home offices, the firm identified IRN's Surplus Program as the environmentally and socially best disposition option.  The overall initiative encompassed six locations nationwide, with each location disposing from a few hundred to three thousand-plus pieces.
SETTING
The program was carried out as fourteen separate projects extending over nine months, at six locations in the District of Columbia, Maryland, Virginia, Florida, and California.  With the exception of the downtown DC location, all were suburban office campus settings.
COMPOSITION & QUANTITY
About two-thirds of the surplus consisted of individual offices, typically including two free-standing desk units (one straight, one corner), one under-desk file cabinet, two overhead storage/file cabinets, a castered task chair, and a side chair.  The balance of the inventory included executive offices (wood desks, hutches, file cabinets, etc.), conference rooms, seating, and miscellaneous furnishings including file cabinets, bookcases, mail racks, work tables, and related items.  The total quantity was over 5,600 pieces.  Individual move-outs ranged from just over 100 pieces to nearly 1,800; the majority included from 200 to 500 pieces per move.
IMPLEMENTATION
Weekend Schedule:  To avoid interference with daily operations, nearly all moves were completed on weekends.  Typically, the moving crew gained access to the buildings at about 7:30 AM and trailers were scheduled to arrive an hour later, giving the crew time to begin to break down the offices and stage for loading.
Inside and Outside Crews:  A crew of about a dozen men knocked down the offices, put them on dollies, and brought them out the front door.  A loading dock was available in only one location; in others the surplus was brought out the front door.  Elevators were padded and used as necessary, and floors are masked with masonite.
Outside, a three-man crew loaded the trailers.  The crew leader, fed by two helpers, was responsible for maximizing the quantity loaded on each trailer.
Loading:  The major challenge with these projects was time and volume – packing bulky and awkward furnishings into the smallest possible number of trailers, with very quick load times required to avoid detention penalties.  After experimentation, the loading foremen identified combinations of furniture that packed most efficiently, and inside crews preassembled these combinations on dollies, which could then be quickly slotted into place.
DESTINATION
The table summarizes the composition and destination of the furnishings from this project.  In all, furnishings were provided to five U.S. charities and to communities in four Caribbean and Central American countries.  In addition, a fraction of the surplus was recycled for its metal value.