Situation: Renovation of the Sloan Building, longtime seat of MIT's Sloan School of Management. MIT had a five-day window to plan and implement removal of over 800 items of surplus.
Material Composition & Quantity: 834 pieces including office and school furnishings: desks, seating, file cabinets, shelving, work tables, etc.
Setting: Urban streets on MIT Cambridge campus. Traffic, access and schedule restrictions. No loading dock.
Download a copy of this case study here.
OVERVIEW
MIT is carrying out a complete gut-renovation of the 1938 Sloan Building, for decades the administrative and academic hub of MIT's Sloan School of Management. After removing all furnishings suitable for reuse on campus, MIT was left with over 800 pieces of mixed office and academic surplus. Consistent with the school's commitment to Sustainability, MIT sought alternatives to disposing of this material.
MIT's major issue was schedule. By the time MIT was prepared to commit the remaining surplus to reuse by charities through IRN, only a week remained before the start of renovation. On the Friday before Labor Day, MIT reached IRN with the project request, with the stipulation that the project must be completed by the following Friday.
SETTING
The Sloan Building is in an urban setting on MIT's campus in Cambridge, Mass., fronting on the Charles River. There was a single passenger elevator to reach the five floors of the structure, and long carries to the nearest truck access point. There was no loading dock. Additionally, the City of Cambridge imposes significant restrictions on truck routing and scheduling.
COMPOSITION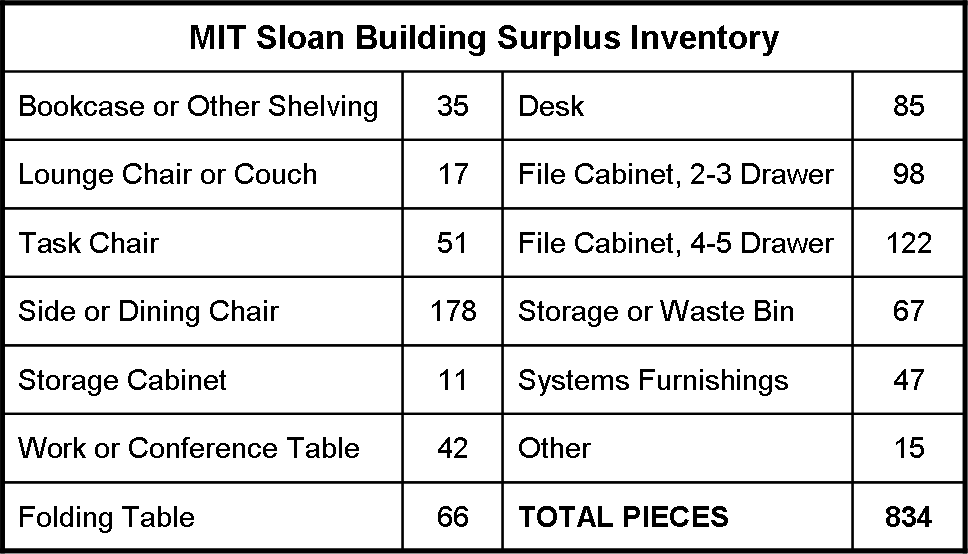 IMPLEMENTATION
IRN visited the site on Tuesday, September 3, accompanied by partner Olympia Moving and Storage to estimate the labor needed for the cleanout. By Close of Business Tuesday, IRN had secured Olympia's quote, identified a recipient for the furnishings, and submitted a project proposal to MIT.
MIT gave verbal approval to the project on Wednesday, September 4. At 7:00 AM on Thursday, September 5, IRN and Olympia mobilized onsite with a 14-man crew and four 26-foot box trucks. As they were loaded, the trucks shuttled to IRN's warehouse in Somerville, Mass., emptied, and returned for another load. On September 5 IRN and Olympia removed ten truckloads from the Sloan Building to the IRN warehouse. On Friday, September 6 the crew loaded and shipped another seven trucks. The project was completed by 1:00 PM on September 6.
KEY CONCERNS
Schedule. Because of trucking and shipping schedules, IRN needs five to seven days to secure tractor trailers for disposition of surplus through its charitable network. With only two days to work with, IRN buffered the schedule by shuttling the surplus to its Somerville warehouse, and loading full tractor trailers from there. Loading a local shuttle also takes less time than loading trailers for overseas shipment, so this strategy had the added benefit of reducing crew time at MIT.
Logistics. The project faced multiple logistics challenges:
Daily scheduling constraints because of city-wide limitations on truck traffic.
Balancing crew size to optimize load time at MIT vs unload time at IRN's warehouse, to keep the material flow as high as possible.
Difficult access and long carries of furniture at the Sloan Building.
Access to only one elevator to empty five floors of furniture.
DESTINATION
The MIT surplus was accepted by longtime IRN charitable partner Food For The Poor. One trailer was sent to an FFP sister organization in Ghana (Africa). Two trailers were sent to community development projects in Nicaragua, and two were sent to FFP's warehouse facility in Jamaica, for distribution to FFP projects there and elsewhere in the Caribbean.