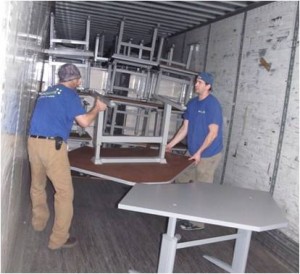 Situation:  Replacement of furnishings from approximately 375 offices over six weeks.  Small quantities replaced nightly.  Security and logistics consideration precluded live-load of trailers from the corporate campus.
Material Composition & Quantity:  Height-adjustable desks; bookcases; bulletin boards and white boards; seating; miscellaneous office furnishings.
Setting:  Suburban corporate campus and industrial warehouse.
Download a PDF of this case study
Overview
This Fortune 100 firm initiated replacement of furnishings from some 375 offices at its West Coast corporate campus.  Consistent with corporate sustainability policies, the company asked their furniture dealer to offer a reuse or recycling alternative for the furniture being replaced.
The dealer has worked with IRN on other projects, and contacted IRN for assistance.  IRN's mission is to provide organizations that care about sustainability with options for reuse and/or recycling their excess furniture and equipment, with the goal of Zero Landfill.  IRN evaluated the client's inventory against its network of charitable partners and determined that 100% of the furnishings could be placed for reuse.
The client specified that the replacements had to be completed outside of regular business hours.  Accordingly, the dealer received and prepped the new furnishings at their warehouse.  Each evening, a crew delivered and installed new furnishings on the client's campus, and removed and returned the old furnishings to the warehouse.  As these nightly returns accumulated into full trailer-loads, IRN scheduled trailers to arrive at the warehouse, where they were packed by the dealer crew for shipment to IRN's charitable partners.
Ultimately encompassing nearly 2,500 pieces and eight trailer-loads, the project was implemented over a period of six weeks, loading one or two trailers each week.
Implementation
Unlike situations where IRN removes furnishings and packs trailers directly from a client location, this project separated the two aspects of implementation.  This is not unusual when reuse is attached to the delivery and installation of new furnishings.  Although double handling adds some cost, it minimizes disruption on the client's premises and helps assure a smooth work flow.  As an alternative, IRN can park trailers on the client's site to be packed over a period of days as furniture is replaced.  When a trailer is fully loaded, IRN swaps the full for an empty, repeating until the project is completed.  In this instance, loading from the warehouse allowed for flexible scheduling, straightforward access for tractor-trailers, and ample space for truck movements.
Composition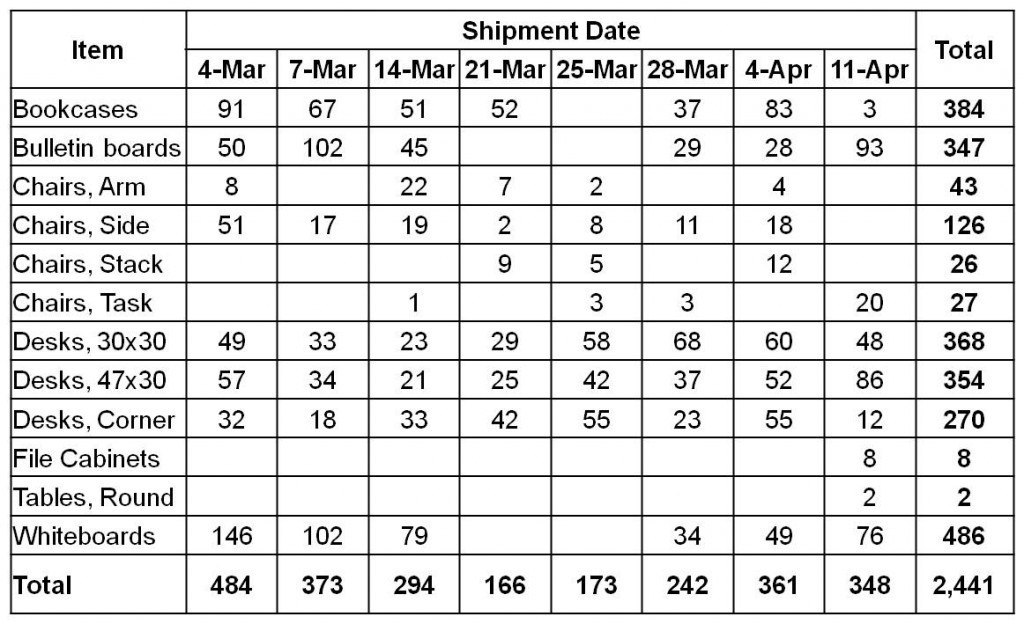 Destination
This project supplied high-quality furnishings to multiple recipients.  Five trailer-loads were provided to regional furniture banks, supporting their mission of providing low-cost furnishings to disadvantaged residents and businesses.  Two trailers were shipped to longtime IRN partner Food For The Poor, for use in FFP relief and development projects in Jamaica and other Caribbean countries.  One trailer was provided to a regional public school district, offsetting the need to purchase new administrative and classroom furnishings.
Cost
Reuse saved the client approximately 25% compared to the cost of disposal.
Labor:  No more labor is required to load furnishings for reuse than to fill dumpsters.  If anything, based on IRN experience, labor to pack for reuse is a few percent less than labor for disposal.
Materials:  Where possible and requested by a client, IRN recovers financial value by recycling for scrap metal.  Scrap recycling was not possible on this project, however, because of the material composition of the inventory.  At regional disposal costs, the client would have paid approximately $16,000 to dispose of the furnishings.  The cost of trailers supplied by IRN was some $4,000 less.