The Perelman School of Medicine has had a longstanding relationship with Steelcase and their Philadelphia-area dealer, Corporate Interiors.  Like nearly all colleges and universities, the Perelman School places a lot of emphasis on Sustainability.  And like nearly all Steelcase clients, the School wants Steelcase and their dealer to be a full-service partner, not just a furniture supplier.
So when the Perelman School started on a series of renovations to its Philadelphia campus, it looked to Steelcase and CI for assistance.  There was a lot of usable furniture up for replacement, and the School didn't want it to go into a landfill.  They asked CI to find a better solution, and CI reached out to IRN for assistance.
Perelman's first request came in 2011; CI and IRN responded by setting up a shipment of 188 items to the America-Nicaragua Foundation in Managua, Nicaragua.  Since then, CI and IRN have set up eleven further shipments for the Medical School, recovering a total of 1,728 items for reuse.  Take away reuse, and that would be 35 to 40 big rolloff containers hauled to a landfill.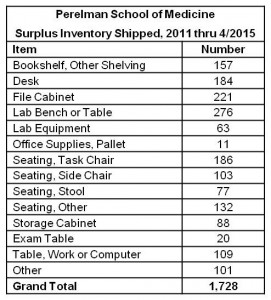 The furnishings and equipment have been matched with hospitals and clinics in Nicaragua, El Salvador, Guyana, Haiti, and Jamaica.  Perelman's shipments have included 385 lab benches and tables, 20 exam tables, 63 pieces of lab equipment, 405 desks and file cabinets, 245 sets of shelving and storage cabinets, 11 pallets of office supplies, and 498 pieces of seating including task and desk chairs, stacking and folding chairs, and lab stools.  Take away Perelman and CI, and these items would simply be unavailable or beyond the means of the recipient organizations – those local clinics and hospitals would simply do without.
This is a great example of reuse as a way of life.  The Perelman School simply does not throw anything away.  As surplus is generated, they keep Corporate Interiors informed.  CI knows how many pieces will fill a container, so they can tell the Medical School when a container-load is ready to ship, and give them a price quote on the spot.   At the same time CI notifies IRN.  IRN makes a match with a charitable recipient, and schedules a truck to arrive – sometimes to be live-loaded at the Perelman School, sometimes at CI's warehouse.  CI loads the trailer, attaches the customs seal, and the trailer heads for the Port of Philadelphia.  Within a couple of weeks, Perelman's excess furnishings are installed, in use, and enjoying a second life improving health care in disadvantaged communities.
The Perelman School spends less for reuse than it would to send its surplus to landfill.  Needy communities gain essential, life-saving resources.  The environment benefits from eliminated waste disposal.  CI has a very happy client.  It's not a zero-sum game.  With reuse as a way of life, everybody comes out ahead.