Overview
The University of Notre Dame has an active sustainability program, with a serious commitment to waste reduction.  Planning a renovation of their Law School library, Notre Dame wanted to do something better than throw their used, but still usable, furniture into a landfill.  In late 2008 the school reached out to Business Furnishings, their longtime Steelcase dealer, for help.  Business Furnishings, in turn, contacted IRN.
In January 2009, Business Furnishings and IRN packed eight tractor trailers with nearly 1,300 pieces of surplus Notre Dame furniture, which was provided to needy communities in Haiti and Jamaica.  The project gained national attention, and according to Notre Dame's project manager, it "drew more comments and calls than any of the other ten major projects (we) completed during the year."
But it was just the beginning.  Since that first project, reuse has become standard practice at Notre Dame in renovations, cleanouts, and replacements, and Notre Dame has turned to Business Furnishings and IRN for assistance on another eight projects.  Whenever and wherever Notre Dame has furniture that needs to go away, they keep Business Furnishings and IRN on speed dial, to provide the best and most cost-effective solution.
Why Reuse?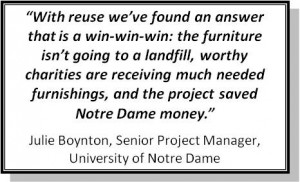 Reuse Matters.  Sustainability has become a priority for just about every corporation, school, and healthcare system in the country.  Waste minimization and recycling are a critical aspect of Sustainability.  No organization wants to see usable furniture going into the trash.  Reuse is the best and most cost-effective solution.
It's Simple.  IRN provides turnkey service.  Once you put a project in IRN's hands, it will get done.  IRN has handled more than 2,000 projects in 26 states from Maine to California to Florida.  Our job is to provide the social, environmental, and financial benefits of reuse, with no headaches, and no extra work.  We are very good at it.
It's Great Public Relations.  You can't buy better public and community relations than a shot of a poor student in Haiti, sitting at a desk or table coming from a school or office in New York or Texas.  IRN provides detailed reporting on where and to whom surplus has been distributed, and helps with press releases and other publicity.
It Costs Less Than Throwing Stuff Away.  That's our promise.  One IRN trailer holds as much as three or four big rolloff containers, and costs much less.  There's less traffic and less commotion.  There's no additional labor.
What Is the Cost?
IRN's proposal has three lines:  (1) Project Management; (2) Labor (only if provided by IRN); and (3) A Material Management charge for the trucks we provide to carry the surplus away.  The charity absorbs most of the cost for shipping and distributing the furnishings; the material management charge helps them out.  If there's any revenue to be gained from recycling metal items like panels, file cabinets, etc., that returns to you as a credit.
One thing we can guarantee:  If we give you a proposal, reuse through IRN will cost no more, and almost always less than throwing surplus away.
What's the Process?
IRN needs three things:  (1) The inventory, which is what we match and offer to charities; (2) The location & schedule, so we know when and where to send trucks; (3) Who will provide labor; on many projects our client provide or hire labor, but if not IRN has connections to crews in every market in the U.S.
With these, IRN prepares a proposal for your approval.  Until you agree and sign the proposal, there's no cost.  Once the project is approved, IRN handles all the project details; setting up trucking and loading procedures; paperwork; coordination with the client; onsite management.  We make you look good, without making you work at it.
Resources
www.irnsurplus.com.  IRN's website.  Click on "Case Studies" to review and downloads dozens of case studies, press, and other materials.
http://irnsurplus.com/generators-request.html.  A project initiation form.  If you have surplus, and reuse may be a good option, fill out this simple form.  There's no obligation.  We'll get in touch and help you evaluate whether reuse makes sense.