From all of us at IRN, we hope you're enjoying a safe, healthy, and fun summer. Northern New England is at its most beautiful, our hills clothed in fresh green under a bright blue sky, a profusion of flowers and colors in every garden.
IRN's reuse program continues to expand and to make a difference – for organizations that find themselves with excess furniture across the U.S., and for needy children, families, and communities around the world. Here's a quick summary of IRN's year-to-date results.
From January to June IRN facilitated reuse of nearly 68,000 pieces of furniture. We worked with 18 K12 schools, 22 colleges and universities, 3 healthcare systems, and 18 corporations, spread across the U.S. in 23 states. Recipients included 40 different nonprofit organizations serving in 18 U.S. states and 21 countries around the world. We provided needy schools and communities with some 10,000 desks, 7,000 tables, 31,000 chairs and other seating, 2,000 beds, 4,000 mattresses, 2,500 dressers and wardrobes, plus file cabinets, storage cabinets, and hundreds of other items.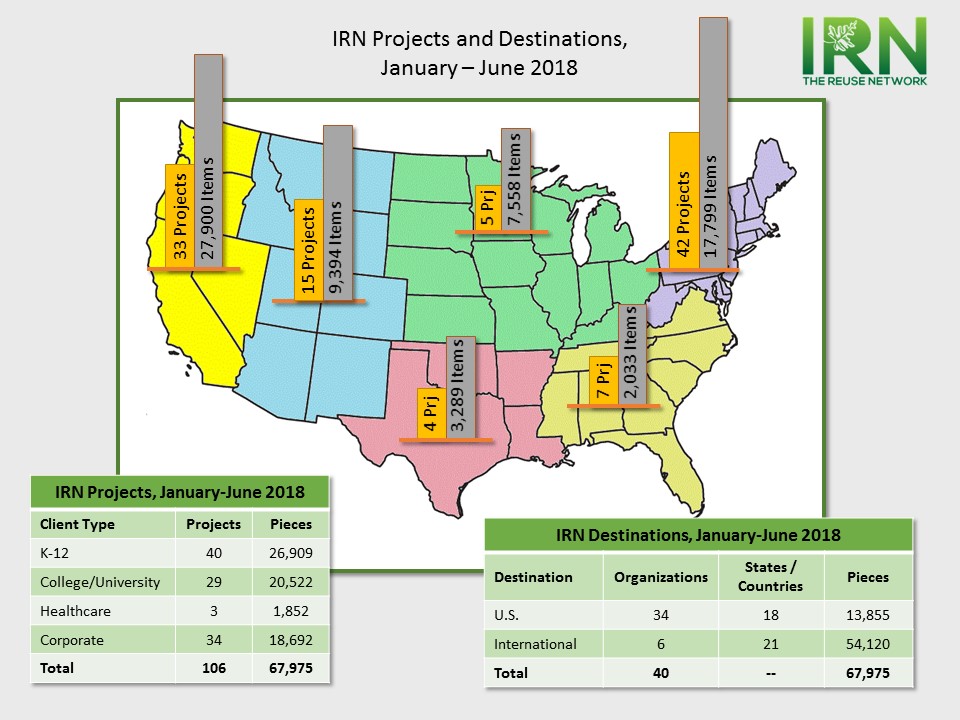 You can click here for a PDF of this chart: Project & Destination Map, First Half 2018
But it's not IRN who's really responsible for this success. We're only the matchmaker. The real stars of this program are the hundreds of organizations nationwide who have called us because they understand that throwing usable furniture away is the wrong thing to do, when millions of people are so very much in need. Equally so are the dozens of nonprofit organizations staffed by dedicated, selfless people, many of them volunteers, who have given a big part of their lives to helping less fortunate people and communities.
If you have projects that will yield surplus furniture later this summer and fall – and you want to save some money, have some fun, and do some good in the world – we hope you'll get in touch. You can reach us with a click right here.