In 2017, IRN placed more than 176,000 items of furniture for reuse with U.S. and international nonprofits.  These filled nearly 650 tractor trailers with more than 8,000,000 pounds of furnishings.  In addition, IRN recycled 1,000,000 pounds of furnishings that were unsuitable for reuse.  In a year marked by a long series of natural disasters, furnishings from IRN are playing a vital role in relief and reconstruction efforts from Houston to the Virgin Islands to war-torn countries in Africa and the Middle East.
Where IRN Furnishings Came From in 2017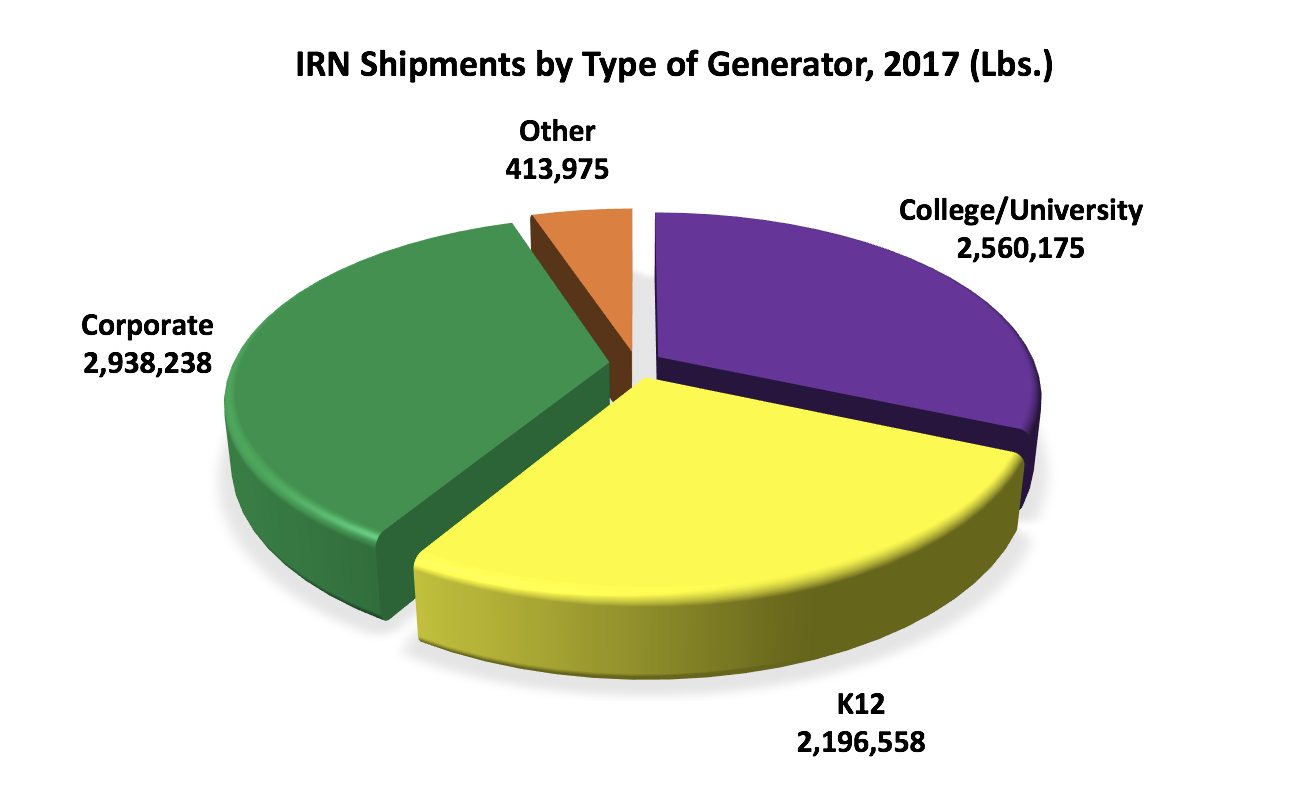 IRN completed 201 projects in 2017, for 102 organizations, including 42 colleges and universities, 30 corporate clients, 31 elementary and secondary schools and districts, and 10 healthcare and government organizations.  IRN worked in 26 states from Massachusetts to California.
K-12, college, and university projects are IRN's source of classroom furniture and everything that goes with it – libraries, cafeterias, kitchens, offices, and science labs.  Worldwide, these are the furnishings most needed by IRN's charitable partners.
Colleges and independent schools provide residential furniture that is needed by the tens of millions of families worldwide who are displaced – casualties of floods, earthquakes hurricanes, and war – and the millions more who don't have resources to buy basic furnishings.
Corporations supply furniture that fills many roles for IRN charities.  Desks and tables are assimilated into classrooms; storage and file cabinets find use in schools and clinics; seating of all kinds is always much needed.
Where IRN Furnishings Went
The majority of furnishings we handle stay close to home, in the Americas.  In 2017 disaster relief in the southern U.S., Central America, and the Caribbean absorbed a large fraction of furnishings supplied by IRN.  Our largest single destination was Jamaica, which has been a staging area for relief and reconstruction supplies for Puerto Rico, Haiti, Dominica, and other islands badly damaged by 2017 hurricanes.  Other major destinations included warehouses in Texas, Haiti, Nicaragua, and Honduras, where IRN furnishings are being plugged directly into relief and reconstruction.
Overall in 2017, some 3.3 million pounds of IRN furnishings went to charities in 28 U.S. states.  Another 3.4 million pounds reached 10 countries in the Caribbean, Central and South America.  More than 1.4 million pounds of IRN furnishings were shipped to Africa, where they were placed in 12 countries.  High shipping costs are a limitation on shipments to Asia, where IRN furnishings found recipients in 5 countries.
IRN works with a large and diverse group of charitable partners.  In 2017 we placed furnishings with 90 different organizations – some who took only a trailer or two, others who took more than 150 trailers.  Our international partners tend to be large relief and development organizations who work in a number of different countries, and who have the necessary expertise and experience to handle the complexities of international shipping, customs, in-country transportation, plus planning and coordination of relief after hurricanes and other natural disasters.  In the U.S. our typical nonprofit partner is much smaller – individual tribal and other schools, Habitat for Humanity ReStores, charitable thrift stores and furniture banks.
What We Shipped
The need for usable furnishings of all types in the U.S. and worldwide is overwhelming – the people who lack but cannot afford furnishings number in hundreds of millions.  Tens of millions more are affected annually by floods, hurricanes, war, and other natural and man-made disasters.  IRN shipped 176,000 items in 2017 – we could work a dozen lifetimes and still put hardly a dent in the worldwide need.
In general, children and students are the greatest beneficiaries of furnishings from IRN.  In 2017 IRN shipped more than 37,000 school and student chairs, more than 22,000 student desks, nearly 12,000 work and activity tables, and more than 10,000 bookshelves and storage cabinets.
Beds and mattresses along with storage, tables, and seating are the most important residential furnishings for disaster relief and community development.  In 2017 IRN more than 65,000 of these items to worldwide charities.
What's Ahead?
IRN is starting 2018 with our largest project backlog ever at this time of year.  And with the most requests for furnishings that we've ever received from our charitable partners.  On many Caribbean Islands, reconstruction from 2017 hurricanes is barely underway.  Even before the disastrous hurricane season, one of our international charitable partners put out a call for 20,000 mattresses in 2018.  In the U.S., thousands of homes remain to be put back together after Hurricane Harvey.  If you have surplus furnishings and you can imagine them being used again, we hope you'll call.  We'll make sure they get used, where they are truly needed.
Please get in touch if you have usable furnishings that should be reused and re-loved instead of thrown away, or if you have any questions about IRN, what we do, or how we work.
[contact-form][contact-field label=Name type='name' required='1'/][contact-field label=Email type='email' required='1'/][contact-field label=Comment/Question type='textarea' required='1'/][/contact-form]