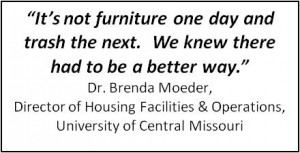 The University of Central Missouri is home to 9,500 undergraduate and more than 2,000 graduate students on its campus in Warrensburg, a rural community 60 miles from Kansas City.
Like most schools, UCM replaces its dormitory furnishings on a planned cycle. Along with room furniture, the school turns over lounge, reception, and study furnishings on a regular basis. Consistent with school and state policy, UCM makes its surplus available to the local community through a surplus auction. But the volume of UCM surplus is much more than the local community can absorb. So for the past five years, UCM has had  thousands of used dormitory furnishings that needed disposal.
Until 2010, "disposal" meant "landfill". The University was able to salvage metal items like bed springs for scrap value, but the majority of UCM's surplus was discarded as trash: hundreds of desks, chairs, bed frames, dressers, wardrobes, night tables, sofas, and much more. To Dr. Brenda Moeder, UCM's Associate Director of University Housing, this was a waste, pure and simple. "It's not furniture one day and trash the next," she says.  "We knew there had to be a better way."
In 2010 Dr. Moeder connected with IRN's Surplus Reuse Program, and things have changed.  In the five years from 2010 to 2014, hardly one piece of UCM's surplus has found its way into a dumpster.  Instead, more than 15,500 items have found their way to charity.  There is no more waste.
In 2010 UCM completed three different replacement projects spread between May and September. More than 5,300 items were directed to reuse, to recipient organizations in Georgia, and overseas in Jamaica, Nicaragua, Honduras, Guatemala, and Sierra Leone,
The next year, 2011, UCM completed two more projects, with most of the surplus provided to the Christian Appalachian Project, and distributed among rural and urban communities in thirteen U.S. states.
2011 also saw the awful tragedy of the Joplin tornado, only 150 miles south of UCM's campus. Within a week, UCM had rearranged their summer replacement schedule to provide several hundred beds and sets of bedding and blankets to the Joplin relief effort.
In 2012 UCM completed another three furniture replacement projects, and another 3,000 pieces were kept from disposal. One set of furnishings was matched again with the Christian Appalachian Project. The balance were placed with Lifeline Outreach International, a Florida-based charity that supplies relief efforts both in the U.S. and overseas in Africa, Central and South America.
In 2013, 1,740 items were provided to community development projects in El Salvador.
In 2014, 2,500 items have been packed to date (with more scheduled later in the summer); two tractor trailers have been shipped to the University World College in New Mexico, and ten more have been shipped through the charity Life for Relief & Development to schools in Afghanistan.
In total, in the five years UCM has worked with IRN, the school has kept over 1.3 million pounds of furniture out of Missouri landfills, and has shipped more than 60 tractor trailers of usable surplus to charities workings in seven countries and sixteen U.S. states.
IMPLEMENTATION
UCM employs professional setup crews, full and part-time custodial staff, and temporary student employees for its surplus reuse projects. These workers – as many as 25 on a large project – remove the furnishings from the buildings and carry them out to the trailers brought in by IRN and IRN's charitable partners. This is a very low cost solution for UCM; when it's time to remove the furniture and pack trailers, the university simply diverts these crews from other assignments. IRN sends an onsite project manager to provide general supervision, and UCM's setup crews work inside the trailers. Their role is to pack as much as possible into each trailer, in order to minimize shipping costs and prevent damage to the furnishings in transit. Lifting and packing heavy and bulky items, this is also skilled and potentially dangerous work, not suitable for untrained workers.
On a typical day, UCM will fill three or four trailers, scheduled at two-and-a-half or three-hour intervals starting at 8:00 or 8:30 AM. If they have time between trailers, the UCM crew will bring down and stage furniture outside, so trailers can be loaded as quickly as possible.