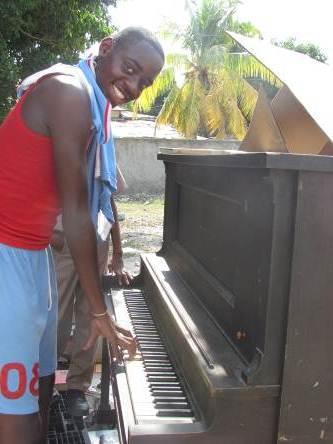 We don't always get photos or feedback when IRN surplus is distributed in Jamaica or Haiti or Ghana or a small town in Kentucky.  In most of these places there are no smartphones.  Outside of cities like Kingston or Port au Prince, there's no cell service.   Almost no one has a digital camera.  People are busy just trying to get by from day to day.  Taking photographs of furniture being unloaded, of homes that have real beds for the first time, or classrooms newly furnished with desks – that's not a high priority.
So it's nice, especially at this time of year, when we do get to see a photo of a smiling boy in Jamaica, with an old piano from Massachusetts.  It's a reminder how incredibly fortunate we are, that we can get rid of a good piano, because we think it's no longer good enough.  It's a reminder that things we don't value, things we call waste, can make an incalculable difference in the lives of less fortunate neighbors.  It's a reminder how little it can take to do a whole lot of good.
And at Christmas, when a thousand pressures tell us to spend, and consume, and eat and drink and party and spend and consume some more, it's a reminder what the Christmas story is about.  It's about giving.  Not because you want to show off or you expect something in return.  Because it puts a huge smile on your son or your daughter or your Mom or your Dad, or on some poor kid in Jamaica.  Because it makes their lives a little better.  Because it makes the world a little better place.
To all who have worked with IRN, in 2013 and ever since we started the Surplus Program in 2002, we would like to say "Thank You."  We thank you for your care and concern, for making a difference in the lives of people and communities far, far away.  For giving without expecting anything in return, not even a photograph.  But knowing, somewhere out there, there's a kid with a big huge smile, because you made a difference in his life.
(The smiling boy, and the piano, are at St. George's College, a K-12 school in Kingston, Jamaica.  The piano is one of more than 1,200 items that were provided to St. Georges in 2013 by the Berlin-Boylston School District in Massachusetts.  Click here for a Special Followup Report with more photos of the surplus being loaded in Massachusetts, and then unloaded and in use in Jamaica.)