A Massachusetts firm asked IRN to clean out a retired manufacturing facility. Dating from the 1930s, the plant had been used for production, storage, and administration. Production was shut down and employees moved out in the 1990s.  The plant was used for storage for a few years, but eventually this use was dropped, too, and the plant was essentially abandoned. Left behind were a wide range of materials, including: production equipment; wood crates and pallets; off-spec plastics (raw and cured); appliances; computers, monitors and other electronics; lab equipment, office furniture, racking, and other surplus; cardboard and other paper (including confidential documents); parts, piping, valves, HVAC equipment, and miscellaneous debris.
There were many challenges:
Small spaces, immovable masonry walls, restrictive passageways and access points;
Complex production equipment including large pieces of equipment erected in place, piping and valves;
Hundreds of boxes and file cabinets containing confidential corporate and personal information;
Complex set of materials with very different deconstruction, handling, and disposition requirements.
Materials mixed and jumbled throughout the facility.
Click here for a printable PDF case study about this project.
Planning and Implementation
IRN organized the cleanout in three phases:
Phase 1 addressed the major pieces of processing and storage equipment. These demanded specialized crews and lifting and cutting equipment. Our goal was to isolate this phase to provide a safe and orderly working environment.
Phase 2 attacked the diverse array of furnishings and supplies left over from production and administrative uses, including furniture and built-ins, boxed and filed records, computers, pallets and crates.
Phase 3 took care of "the rest" – focusing especially on recovering value from the tons of ferrous and nonferrous metal in pipes, fixtures, and wiring.
Results: 127 Tons Reused and Recycled (Table)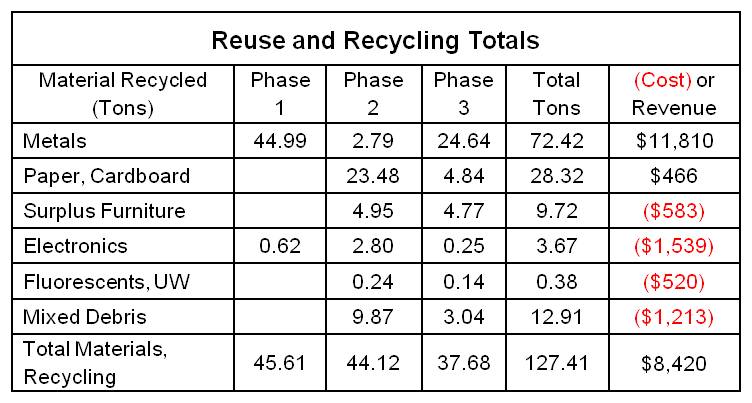 At the end of the project, zero was landfilled. About 60% of the total recovered was metal, and another 25% was paper and cardboard. All was recycled. IRN placed nearly twenty thousand pounds of excess furniture for reuse by charitable organizations. Old electronic equipment and Universal Wastes were recycled in accordance with state and federal regulations; none were disposed. The ten percent of all materials that could not be segregated for reuse or source-separated recycling were recycled as mixed debris.
Costs: 38% Savings Compared to Disposal (Table)
Before bringing IRN into the project, the firm had solicited prices to dispose of the "wastes" from the decommissioned facility, allowing a direct comparison with the cost of reuse and recycling. Managing for reuse+recycling added about $2,250 to labor and transportation costs, but yielded savings of more than $18,000 in the cost of material disposition. Across the entire project, reuse+ recycling yielded savings of more than $14,000, or 38% of the proposed cost to manage the project for waste disposition.
Keys to Success
Planning and Coordination.  There were many barriers working in an old mill building.  Careful planning and onsite coordination were required to optimize use of labor, tools, and transportation, in order to deal efficiently with the wide range of materials, limitations on access, plus the fact that many items needed to be uninstalled or disassembled.
Management and Staff Commitment. Knowing that the project was a priority for company management, local staff jumped into the effort providing resources like extra forklifts, snow removal, and traffic control that were essential to making the project safe, efficient, and cost effective.
Communications. Regular updates to management and plant staff were essential to gaining employee support and their cooperation in making the project a success,  particularly including information about the financial and environmental benefits of the project.